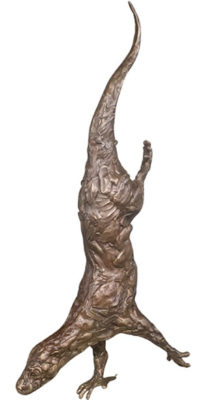 The fourth and final edition of Robert Rorich's beautiful bronze rendition of a Cape Clawless Otter, the Underwater Otter, will be auctioned at his solo Johannesburg Exhibition, Transcendence, this Saturday, 7 May.
100 % of the net proceeds will be directly donated to organisations doing incredible work to rehabilitate, rewild and protect Southern Africa's endangered species.
The opening evening and following weekend are meant to be spaces of learning and unlearning, rewilding and connection. The Good Machine and artist, Robert Rorich, are taking this mission to move beyond art towards connection, human-wildlife connection with causes like these.
We invite you to join us in an opportunity to purchase the last edition of the popular Otter, and in doing so, protecting one of the most threatened and the most trafficked animals on Earth, the pangolin.
Bid on the UnderWater Otter Here